MONDAY AUGUST 28TH
Elise DeMae aka Eliza Evalde is a latvian singer currently studying at the Los Angeles College of Music. This concert will be dedicated to the birth of a new stage name and first single!
In the evening, you will hear cover versions of several well-known songs, and at the end of the concert, a video presentation of the single "Is It Okay"!
Elīza Evalde – vocals
Aleksis Pusts – guitar
Roberts Memmēns – piano
Toms Kursītis – bass guitar
Toms Kagainis – drums
See you @Klubsbiedriba
Riga, Merkeļa street 13
Tickets EUR 10.00 at the entrance or www.aula.lv
With student ID – 5.00
Table reservations +371 25727804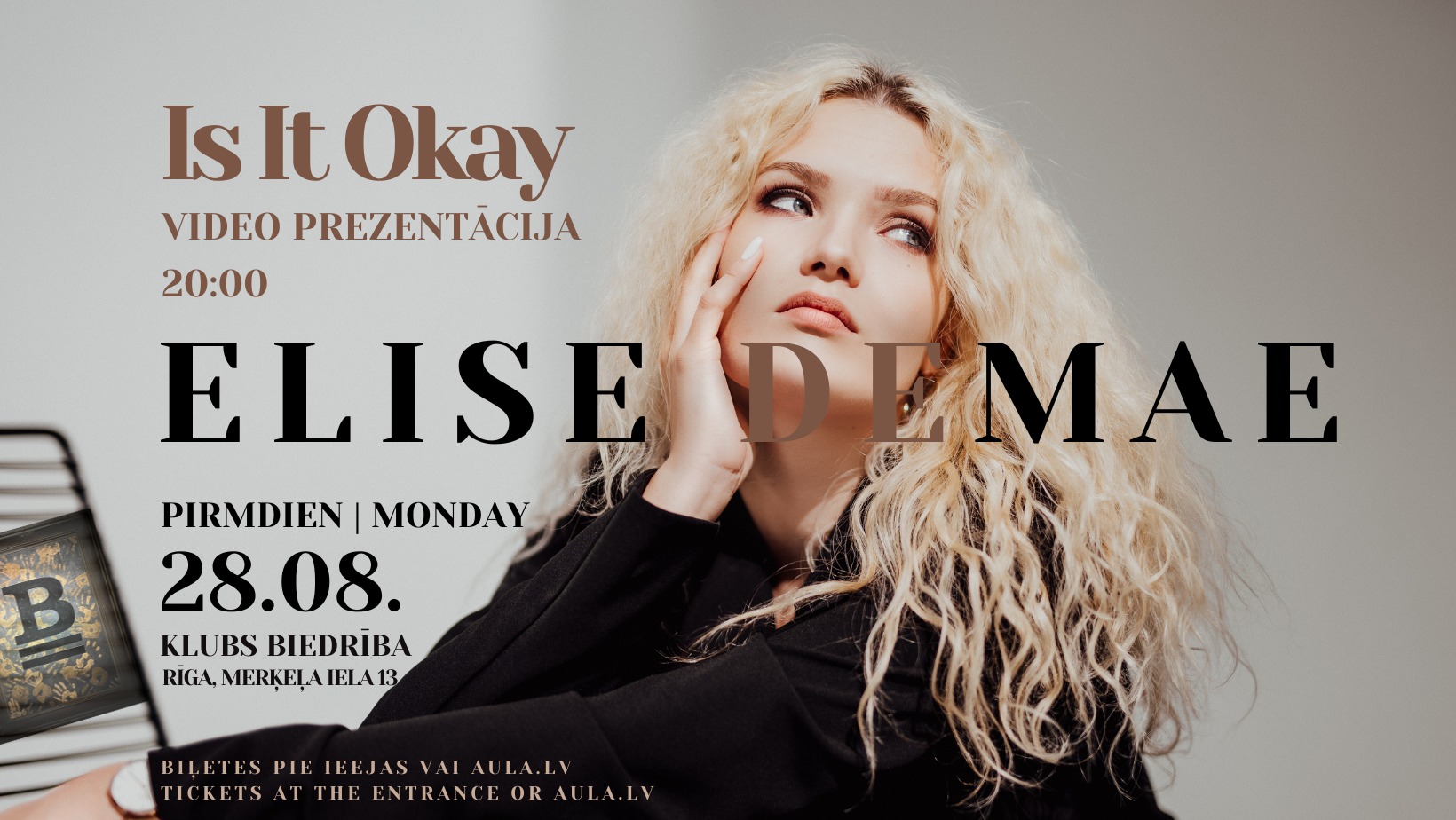 WEDNESDAY AUGUST 30TH
On Wednesday August 30th, at the Biedrība club, you will hear concert of in Cyprus living Latvian jazz pianist Leonid Nesterov , together with the great jazz singer Evilena Protektore and brilliant double bass player Stanislavs Yudins.
Leonid Nesterov is a jazz pianist who started his career as a musician in Latvia, then in 2010 moved to Cyprus, Limassol, where he has continued to perform. Leonid has played with many talented musicians from all over the world – the Baltic States, Germany, Great Britain and Israel.
Evilena Protektore is a jazz singer and composer, a graduate of the jazz department of the Latvian Academy of Music, where now she teaches jazz vocals. Has participated in several festivals — «Pori Jazz» (Finland), «Limassol Jazz» (Cyprus); in competitions: «Riga Jazz Stage» (Latvia), «Nomme Jazz» (Estonia) and is the Grand Prix winner in the competition «Jazz Voices 2014» (Lithuania); also participated in projects such as the recording of the "Jazz in Latvia" album. In 2016, he received the Nic Gotham award for her contribution to Latvian jazz music and life.
Stanislavs Yudins is a musician-double bass player, bass guitarist with a lot of experience. During his career, he has worked in many genres, both as a performer, as well as a composer and producer. These genres include academic music, jazz, popular/pop and rock music, ethnomusic, avant-garde, experimental music, minimalism and also the passion of recent years – free music. Has created the "Free Music Center" association, where musicians from different worlds – academic, jazz, folklore and others – were invited to improvisation sessions. Plays in the band "Tautumeitas", performs regularly and has recorded two albums with the trio "Endless Roar".
See you @Klubsbiedriba
Riga, Merkeļa street 13
Tickets EUR 10.00 at the entrance or www.aula.lv
With student ID – 5.00
Table reservations +371 25727804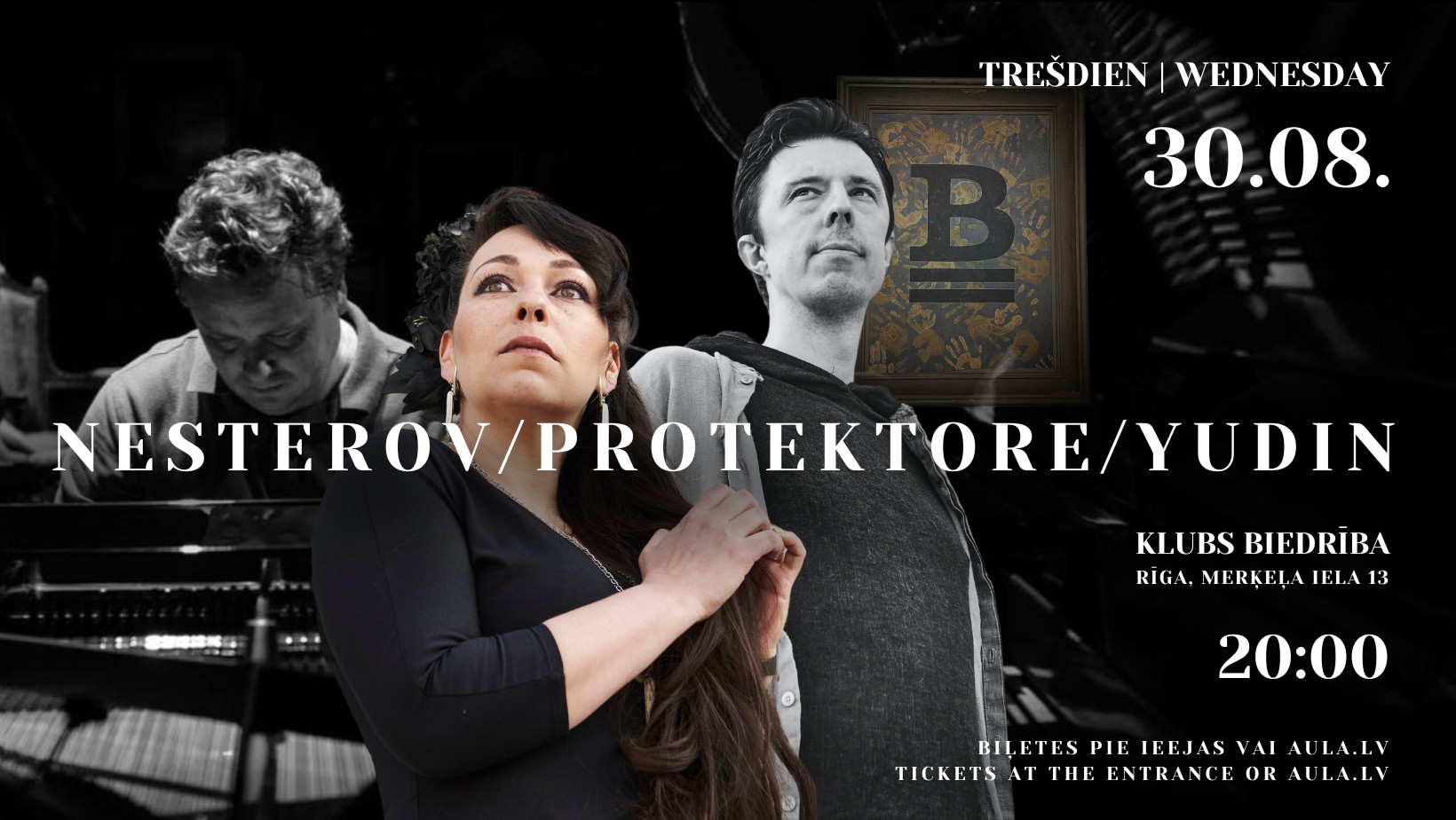 THURSDAY AUGUST 31ST
Thursday, August 31st, Modal Jazz Ennsemble concert at the club Biedrība. The best Latvian jazz musicians and the singer Santa Šillere taking part in this concert.
Group composition:
• Maders Kalninsh – keyboard / Latvia
• Andris Grunte – double bass / Latvia
• Vlads Zelkins – drums / USA
• Indrikis Veitners – saxophone / clarinet / Latvia
• Lauris Amantovs – trombones / Latvia
• Santa Šillere – vocals / Latvia
The concert starts at 21:00!
A bar with delicious drinks and snacks is also available during the event, the bar is open from 19:00!
See you @klubsbiedriba
In Riga, Merkeļa street 13
Tickets EUR 10.00 at the entrance or www.aula.lv
When presenting a student ID – Eur 5.00
Table reservations +371 25727804