We are pleased to announce the upcoming "JVLMA Jazz Marathon 2023"!
The event will take place over three days from May 30 to June 1. The final concert exams of popular and jazz music teachers of the jazz department of Jāzeps Vītols Latvian Academy of Music will be heard.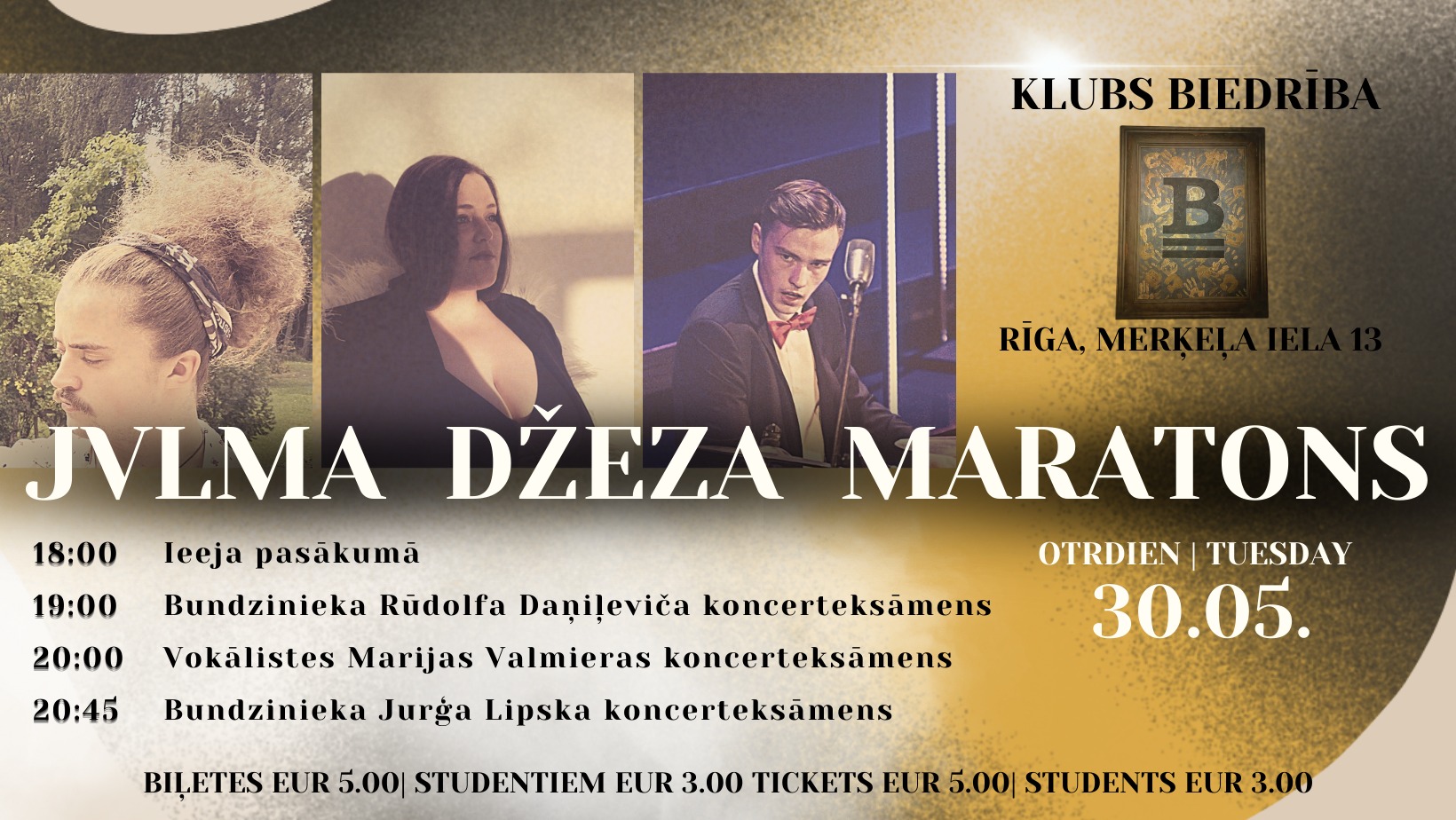 The opening day (30.05) will take place in Riga, in the club "Biedrība", where three students of the jazz department in different specialties will perform: vocalist Marija Valmiera and drummers Jurģis Lipskis and Rūdolfs Daņiļevičs.
Rūdolfs Daņiļevičs has learned to play drums since early childhood, and now also learning it at a professional level. Music is Rūdolf's battery, it charges and heals.
In the concert exam, Rūdolfs chose to play music that fits into the genres of straight groove, because it has always appealed to the drummer deep in his heart. The program will also feature something a little heavier and, of course, some jazz standards.
The band:
Rūdolfs Ozols (guitar)
Alberts Levits (bass)
Artūrs Goba (piano)
Arnis Cielava (sax)
Otomārs Kariņš (voc)

Marija Valmiera – a talented jazz vocalist who will create an unforgettable concert atmosphere with her musical experience and talent.
In her final concert exam, Marija Valmiera will perform five her original compositions in different jazz styles and one Charlie Parker bebop theme, for which she has written the lyrics. The program will reflect Marija's emotional outlook on life and reflections that arose during her studies.
Marija has been active in Latvian music life since 2012, singing and participating in various projects, including the groups "The Coco'nuts" and "Kalnejas", as well as other musical projects, such as "Discopauls".
Marija Valmiera will perform together with a talented lineup of musicians:
pianist Santa Kauliņa,
drummer Jurģis Lipskis,
double bassist Toms Valmiers,
trombonist Kārlis Alfreds Feldbergs,
saxophonist Annija Briška
flautist Katrīna Sabini Kalniņa.

Jurģis Lipskis plays drums. Born and raised in Rēzekne – he is a pure-blood Latgalian. He graduated from the academic percussion department of Rēzekne Music High School and this year ends his bachelor's studies at JVLMA. For the last six months, the drummers studied at the University of Omaha in Nebraska, USA.
In the specialty exam, a colorful program of seven compositions will be performed, which will include both straight eighths and swings, or reflections from hard bop to jazz rock.
Combo:
Drums – Jurģis Lipskis
Bass – Ralfs Arbidāns
Piano – Matīss Žilinskis
Guitar – Svens Vilsons
Saxophone – Artūrs Sebris
Trumpet – Gatis Gorkuša
Xylophone – Arnis Stepiņš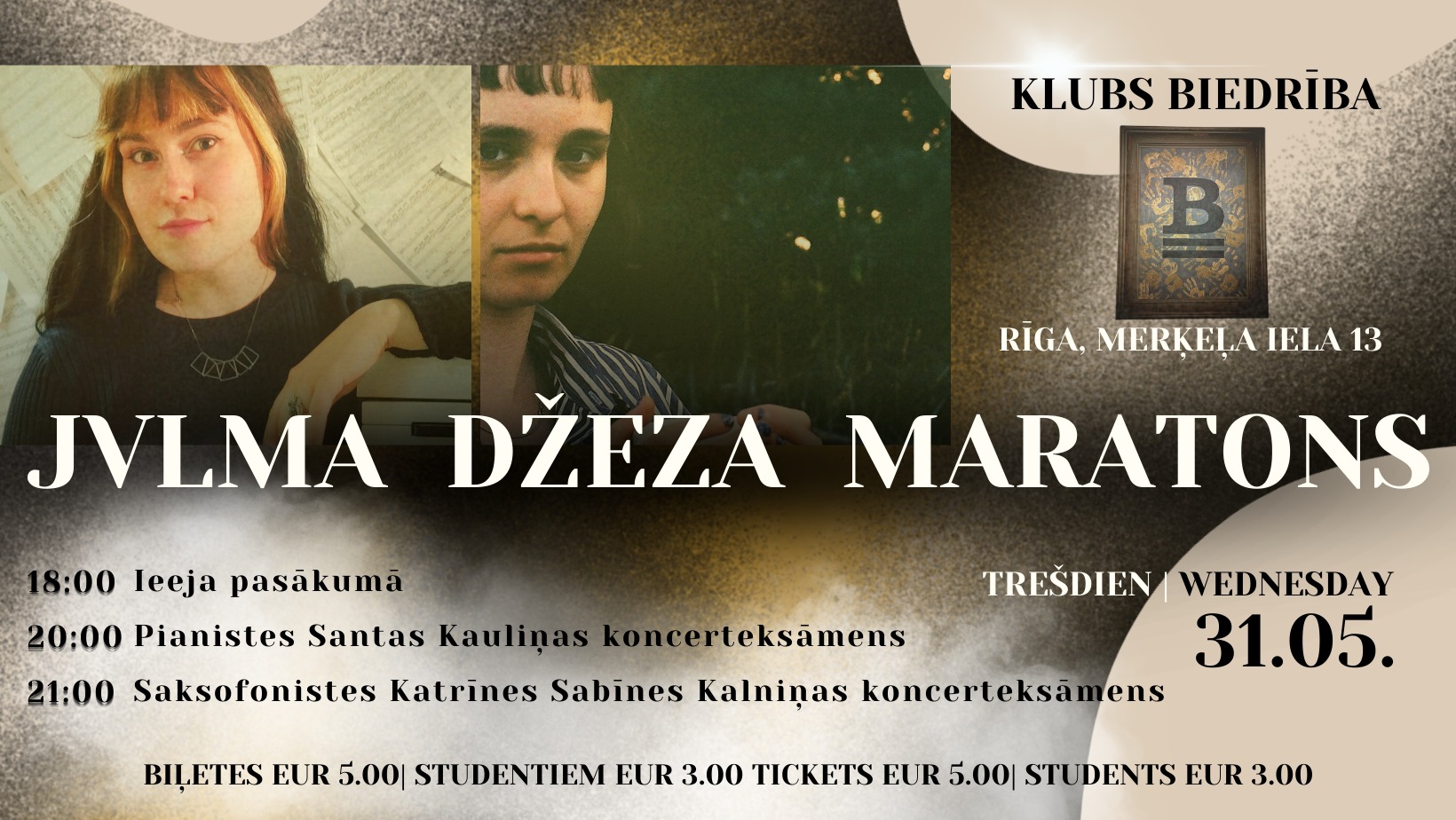 On the second day (31.05) in Riga, in the "Biedrība" club, the final concert exams of popular and jazz music teachers of the department of pedagogy will be heard. The audience will have the opportunity to enjoy the musical performance of saxophonist Katrīnes Sabīnes Kalniņa and pianist Santa Kauliņa.
Santa Kauliņa, a 4th-year popular and jazz music piano teacher specialization student at JVLMA, will perform 2 arrangements of beloved standards, as well as 4 original compositions about various experienced emotions and thoughts.
Stylistically, the music could be described as a melancholic combination of popular, rock, rnb and jazz music.
"Let the music speak for me."
Combo:
Vocals – Marta Zūdiņa
Vocals – Marija Valmiera
Trumpet – Joshua Gabriel Goodvin
Alto Saxophone – Katrīne Sabīne Kalniņa
Alto Saxophone – Annija Briška
Tenor Saxophone – Miks Jurovs
Piano – Santa Kauliņa
Bass – Luca Weigl
Drums – Fay Lee Porter

In the concert exam program of saxophonist Katrīne Sabīne Kalniņa, you will be able to refresh yourself for a moment from the usual everyday life by enjoying beautiful, peaceful music that frees your mind from self-created tensions.
"With my concert exam program, I wanted to create a peaceful and relaxed atmosphere for both players and listeners. After years of struggling with personal challenges and looking for different solutions to overcome stress and anxiety while standing on stage, I have decided to compile this program from compositions that create peace in me, make me smile and establish personal and more intimate relationships with the audience."
The program will include light compositions in the rhythms of Latin American music, as well as peaceful ballads and Katrina's original composition called "153"
Combo:
Marks Jonatans Runds (guitar)
Santa Kauliņa (piano)
Ralfs Arbidāns (bass)
Andris Žabris (drums)
See you in music!
Tickets €5 at the entrance
3€ with a student ID
Table reservations +371 25727804
See you @Klubs Biedrība
Merkela Street 13